contact me for information via this forum.... dean@ then below.
use the domain name
www.laventana.rocks
with my above name .
ACCOMMODATION (Three lines Maximum please.)    (RV SITES now have their own category - after Accommodation.)
-
Loft to Rent. Beautiful 3 rooms,3 bathrooms, full kitchen, tv with cable in the living room, beachfront, cleaning included, use of grill, kayaks and paddleboard. 8 persons max. 2,500.00 dls the week. Info.
sdelapmail.com
----------------------------------------
The Best Deal in Baja keeps getting better, we are taking reservations at The DownwinderIn,
www.downwinderin.com
, 03-297-9020 or local 044-612-156-6244.  Great value from room rates, pillow top beds, upgraded free wifi, guest vehicles, downwinder shuttle rides, and the best star gazing in the area.  Stop by and visit. 
----------------------------------
House for rent, 300 mts from the sea in La Ventana. 2 bdrm, 1  bthrm, 2 king beds & one single, hot water, phone, internet, full kitchen, all you need is your clothes. 150 american bananas per night, 500 per week, 800 per 2 weeks, and 1100 per month. call for details 612-127-8387. David
----------------------------------------------
Beach front house, next to the trailer park, and Playa Central. Beautiful big yellow house with Palapa Roof, 3 rooms, pool, furnished. Lovely Mexican style, 
Rent
weekly/monthly. More information with Stefania [email=sdelapom]sdelapacom[/email]
-----------------------------   
------------------------------
Beach Front House For Rent. Tied for first as the best location in the bay. Nine miles of sandy beach, Reef front and walking distance to town. House sleeps up to six. Best kiting in the bay just outside the front door. Kid friendly. Available for the holidays. [email=garydy.com]garydyril.com[/email]
----------------------------------------
Incredible location, affordable beachfront home just north of Kurt and Marina's. 2 bedrooms w/separate entrances for each & their own bathroom. Can be rented as 1 bedroom w/kitchen & bathroom or 1 bedroom and bathroom only.  
http://www.vrbo.com/488159
 Chris at [email=csdyer02com]csdyermail.com[/email] 
-------------------------------------
House For Rent . available to November 30.  LV Centro ! 1 bdrm, full kitchen, living room dining area. Awsome palapa with great views. Across from the campground and beach. Walking distance to tiendas and restaurants. Fully furnished. Full size bed & futon bed sleeps four . 500 clams / week  plus cleaning. It is a sweet spot and priced competitively.  [email=llbalmu.net]llbalmuorge.net[/email] for photos. 03 703 8475 U.S. Phone
---------------------------------------
La Ventana Bay Properties:  Still has a few nice long term rentals available.  We have a very special beachfront one bedroom home that we would like to have long term rental in, minimum of 3 months please.  Of course we have short term rentals too!   114-0445 or [email=janic@lvbp..mx]janice@lvbp..mx[/email]  or browse
www.lvp.mx
-------------------------------------------------
1 bedroom palapa w/bathroom & storage -electricity-sitting on triple wide lot with plenty of room for RV's etc- great view-one lot  back from beach upper El Sargento .Monthly rent 550 pargos/month.  [email=zarmanet]zarmatinet[/email]
----------------------------------
KurtnMarina's Hotel and RV sites - Is now taking reservations and  we're looking forward to serving you. To make your reservations please visit us at
www.kurtnmarina.com
or contact me at [email=www.kurtnmari.com]
www.kurtnmariail.com
[/email]
----------------------------------------
Accommodation available anytime between Nov 3 to Dec 20. Would like to share a house rental in the South Beach area of La Ventana.  I'm mid 30s, non smoker (all types). If it sounds like it might be a fit, please let me know.  
js056@mail.com
-----------------------------------
House For Rent  in El Teso! between LV/ES. 2 bds, 1 bth, kit, dining rm, big liv.rm. a big yard, terrace to view the island and La ventana Bay,  just 70 yards from the virgin  beach, good for kiters and windsurfers, pictures.
http://picasaweb.google.com/raulvillafanm/CASASARGENTOI
  The house is all  furnished. It is available now through December 28th.
+
House for rent in LaPaz.  Awesome house furnished, great mountains view, on the road going to Los Planes, 2 bdrm, studio, living room, modern well equipped big kitchen, 1 bathroom, nice front & back patios, in a very quiet area in La Paz. Raul at [url=tel 3489798]612 3489798[/url] or  [email=raulvillafm.mx]raulvillafanm.mx[/email]
------------------------------
Kite Crash Pads, with beach privileges and on the water storage at Palapas Ventana, 2 bedroom house - 850 doll hairs per month less for whole winter
furnished trailer - 550 doll hairs per month less for whole winter, 1 bedroom apartment - 750 doll hairs,
c@palapasventana.com
per month less for whole winter
---------------------------------
House front beach La Ventana, excellent for kiting 20 mts from the beach. 2 levels,2 bed, 2 bath, living, dinning, kitchen, private access, south campground, preference long term if possible. Interest contact by email [email=callatodos19il.com]callatodos1il.com[/email], phone (612)176-38-50. 
=======================================
RV SITES
-
Private RV/trailer site in north El Sargento on Private lot about 4 blocks north of Oscaritos. The site has good water and septic with electricity and internet available. The property is on the main road, is fenced, has direct beach access, and very quite at night. The rental price is 3,200 Mexican coco's per month plus your electricity. If interested call 114-0385 or e-mail [email=jackpotchartersbahoo.com]jackpotcharteroo.com[/email]
---------------------------------------
Beautiful private lot with RV hook-up for rent in El Sargento, 1 block North of Oscarito´s walking beach access about 80 yards from the water, good area for launching/snorkeling, new septic tank,   city water tap,  fenced, cleared,  ready for you to roll on in,  no electricity,  friendly neighborhood, Only $1,500 USD for the entire season or $350 USD per month, contact
Santiago Olachea, 
[email=@ecodesignbuildmx.com]@ecodesignbuildmx.com[/email] , Cell 612.120.2948
---------------------------------------------
Beachfront > Camper for Rent on a Huge Campsite Now until December 29th. Just North of the campground in La Ventana. Consider having the Best Launch & the Absolute Best Views, Front and Center of Your Place; Contact Mark @ [url=tel-668-4231]231-668-4231[/url] or email me at the email link on Craigslist. 
http://sfbay.craigslist.org/sfc/vac/4154535914.html
-----------------------------------------------
Property with RV hook-up for rent in downtown La Ventana, It's the 3rd property south of Playa Central, new septic tank, walled , shade tree & ready for you to roll on in, No water or electric but then you won't have any pesky utility bills either, a few meters away from the public water tank & friendly neighbors who do have water/electric, Only 1500 doll hairs for the entire season,,,, contact David at [email=daighway.net]davighway.net[/email]
-------------------------------------------
Large RV with direct beachfront access for rent - Great location!  Just south of Baja Joe's, private, tons of room.  Contact Chris for photos at [email=csdyer20ail.com]csdyer202ail.com[/email]
=====================================
Last edited by dean on Mon Jan 18, 2016 9:09 pm; edited 4 times in total
http://www.vrbo.com/432261
casa duna
Last edited by dean on Sun Oct 14, 2012 5:54 pm; edited 1 time in total
Last edited by dean on Sun Oct 14, 2012 5:55 pm; edited 1 time in total
from ventana view  
Beachfront >>> small Camper for Rent on a Huge Campsite. Just west of the campground in La Ventana, Baja Mexico; ON THE BEACH! Consider having the Best Kite & Windsurf Launch & the Absolute Best Views, Front and Center of Your Place, 30' above the Ocean; with no one within 150 yards to the north or south of you. A very private and elite place indeed. Fall asleep to the sound of waves every night, not the partying of other campers stacked near you. If the idea of having your own personal space in the Sun appeals to you, look no further. The Camper has a Full Kitchen with BBQ, Hot water, Electricity & WiFi, PLUS an upgraded IKEA Memory Foam Bed; ALL within easy walking distance to ALL the great happenings in La Ventana. We are Pet Friendly too! Contact dean1@ for more info and photos.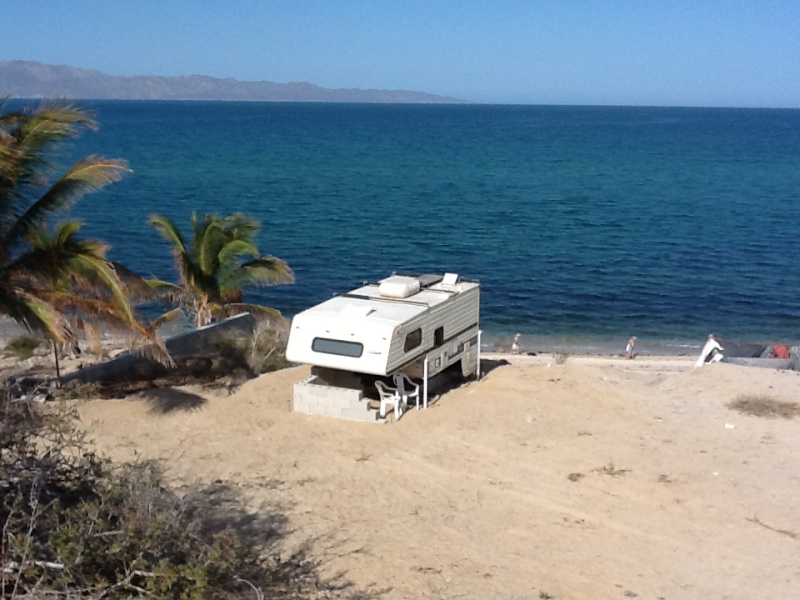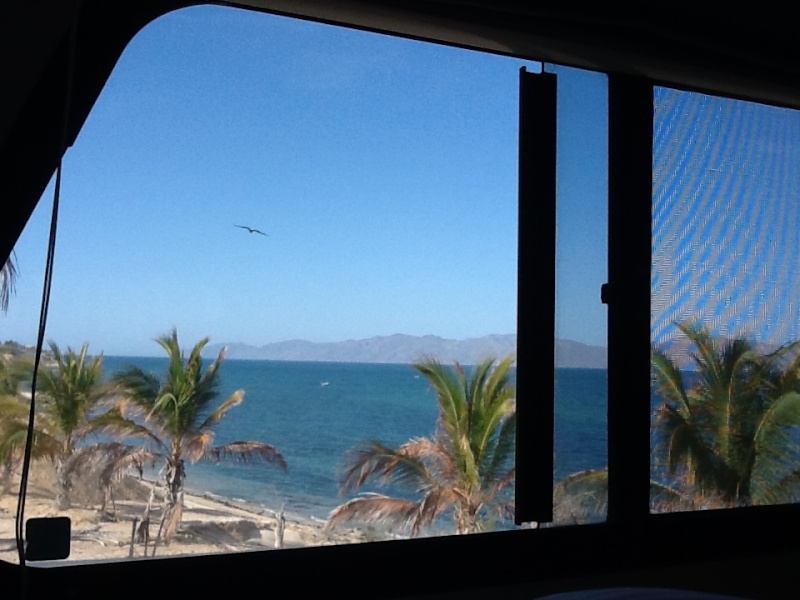 contact me for information via this forum....  dean@ then below.
use the domain name laventana.rocks
Last edited by dean on Mon Apr 18, 2016 9:24 am; edited 5 times in total
http://www.villadelossuenosbaja.com/
Villa de Los Suenos, a spectacular Spanish-style villa located within one of the world's most famous fishing and windsports destinations on the Sea of Cortez, Los Barriles, B.C.S., Mexico.

We are 1.5 hrs South of La Paz, and 45 min. North of San Jose del Cabo. The noted East Cape's expansive recreational destination, boasting world famous sportfishing, wind and kitesurfing, Mexico's only living coral reef for breathtaking scuba and snorkel experiences, and beautiful mountain hikes with hotsprings for those who care to relax in Baja's natural beauty. The surroundings offer a serene, mountaineous desertscape as well as the calming, peaceful, Sea of Cortez, Jacques Cousteau's aquarium.

Completed in 1998, Villa De Los Suenos is located adjacent to Playa Norte, between 2 arroyos, Buenos Aires and San Bartolo, in the small colonia of Buenos Aires. The villa is surrounded by a large wall, offering a private and luminous retreat with many amenities of a private resort. From the moment you pass through the gates and enter this spectacular Villa, you will feel immersed in its beauty and attention to detail. Decorated and completed by the owner, Betsy Rudigoz' designer furnishings, heirlooms and antiques from New England and around the world, including a 1902 Bluthner Parlor Grand piano. With an upscale tropical feel, the Villa provides a spacious, comfortable atmosphere for a warm and inviting stay.

The Villa offers two individual wings or the entire sumptuous villa, which is all inclusive. Wings, flanking the villa's courtyard, offer spacious kitchen/living areas, grand bedroom with 2 queens(dreamy nights on tempurpedic mattresses), generous sized bathrooms, including large walk-in showers, and appointed with quality linens. Wings accomodate up to 6 guests, have their own private entrances, private patios with palapa dining, guests will easily find a place to relax!

laventana home rentals, and if you want a house to rent small or large, cheap or affordable accommodations; contact me at: contact me via this forum.   there is no up-charge.I will find the perfect place for you... myfirst name @LaVentana.rocks
at
same with a builder referral, or real-estate location.
NEW trailer spots in the la-ventana area
Three new full hookup RV/Trailer sites across the street from and overlooking the campground, will be available in La Ventana this season starting November 1st, 2012   For all details go to

www.campo3amigos.com

12/09
Last edited by dean on Mon Apr 18, 2016 9:26 am; edited 5 times in total


Similar topics
---
Permissions in this forum:
You
cannot
reply to topics in this forum