from facebook post may help out...
I go south on Rio nuevo, (just south of the POE, and then take Teran Teran. And bypass all the traffic. U will come out right by the mexicali Costco.
facebook wrote:Mexicali east. far left lane is Sentri. middle lanes for "ready lanes" (passport card), and far right 2 lanes for normal crossing.
Double Trip report (north and then south), as long as you can go slow for the 22 miles the going over to Gonzaga Bay is the way to go. (not a long/big rv rig or pulling a trailer IMHO) Also the 50 miles near south of San Filipe you need to go the speed limit because of the vados. I have a very low clearance car VW... and as long as you go slow you are fine on this hwy 5 construction area to hwy 1.. There is now diesel at Gonzaga Bay.

I also found driving the dirt part at night to be easier for me as I drive slower by human nature at night. And a side benefit is they are not working so you can drive on the 5-7 finished bridges and good pack areas for about 1/4 of the total distance on the east side.

Also a side note when on the final miles (maybe at 1 mile mark from hwy 1, on the west side there is a major un-intentional camouflaged tope where you want to be going about 30 mph but should be doing 10 mph and it did take out my oil pan, being a low clearance car.. Lost a day getting it band-aided that has worked for 3000 miles and the return voyage. I have a spare oil pan now. And spare oil.

Also note the 5-7 mile road construction approaching LaPaz is very similar to this entire 22 mile stretch, especially where the one near LaPaz gets very challenging in a few small runs that is what it is like about 7 miles of the bad areas of the 22 miles. and the rest of the 22 miles is like the mild parts of that construction are approaching LaPaz. So if that construction was nothing for you so will the 22 miles from hwy 1 to hwy 5.

Took me 2 hours to do it this time, did it before in 1.5 hours. I noticed on the first trip 10 days ago some workers fixing the old road we drive on a little bit with a front end loader and on the return yesterday those areas were better. still only 5mph in many areas and max was 20mph at the best areas for me with a low clearance car. Where I hit the nearly invisible tope and broke my oil pan, I was doing about 30mph hitting my brakes and probably hitting it it at 20 mph.

I look at it I now have a new friend mechanic at the hwy 1-hwy 5 junction that I will be visiting for the years to follow.. As side note his (jose luis) English is as good as ours, if driving by stop and drop off a few eggs, dog food for the many friendly dogs he has adopted or other items you may not need anymore, he does live in a rugged area, no cell/phone, water, gas, electric for 40 miles to Catavina which are outrageously priced. I am thankful he is there.

This shortcut is good because the entire side from mexicali is safer from serious issues is my experience of 3 times crossing it in the last year (less curves, less cows, less pot holes, less mountain grades with curves with trucks cheating into your lane and significantly faster, saving 2-4 hours even when I depart San Diego area. So if coming from the backside of LA or San Diego avoiding rush hour traffics, or heading north or east from Mexicali you save much more time. Plus it is rumored that there is construction traffic on hwy 1 past ensenada that can cost you 2 hours right now, and not a bombardment of traffic and lights and slow busses from ensenada to San Quintin.

Now a benefit there is a good smart and final in Mexicali right on the 5 highway, well a block off. The one in ensenada is horrible stopped there and no gringo foods. But this Mexicali one is huge and carries many gringo foods like cheeses. Like cheddar and pepper jack and so on. No USA meats. They carry a lot of products in bulk at great prices that you can buy on the mexican side and not have to deal with importation issues obviously. I would recommend when leaving baja just stopping there to see the items they carry for reference when you return next trip. .There is also a conveniently located COSTCO almost at the 2 and 5 junction.

Talking to the mechanic at the corner where the construction workers for the west end bridges are sleeping, this crew is to be finished with their bridges on the west end by the end of December. This is only the bridge work that this crew is working on, and then who knows if they will send in the crews for paving these sections till they are completely done which from what I can see in the center is a few years away from being done. If they just pave the far east and far west parts that are near finished with the bridges in those sections it could leave about 1/3 to be completed in the future and really make this route popular even just being 2/3 done. That 1/3 to be finished is the worst part too. But would bring it down to maybe 45 minutes or 7 miles of yuck. And again I think night driving it on the return made a huge difference, i had no wish to even go fast. for those of us that are impatient.
https://www.youtube.com/watch?v=jfJ1oUnYc6Y&feature=youtu.be
hwy 5 construction areas... 23 miles left area view.
Published on Mar 24, 2016
Aerial Views of Baja California Norte Mex 5 Construction. Video captured in mid March 2016. Also shown are some clips of Gonzaga Bay and the mountains and Sea of Cortez, north of San Filipe.

This video was primarily done for the purpose of showing the status of the Mex 5 construction zone. As you can see, it seems that most bridges and culverts are nearly done but there are still hills to knock through and flat sections of the new road that still needs to be blazed. The video has been sped up in some sections which accounts for some jerkiness.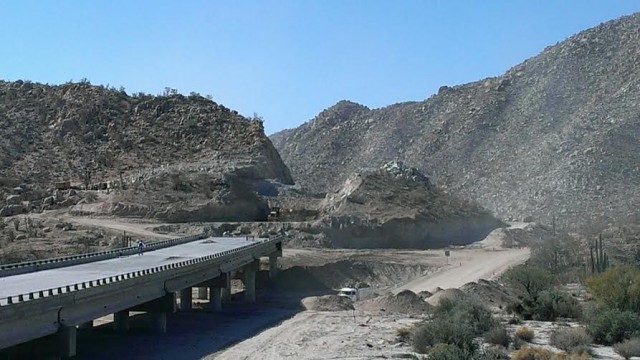 http://www.periodismonegro.mx/2016/03/30/en-2016-mexicali-conectara-directamente-con-transpeninsular/
In 2016 Mexicali connect directly to Transpeninsular
this says the road will be finished this year? this via goggle translate.
They will be saved 4 hours from the capital you can travel to South Peninsula

This year SCT connect with Mexicali- Transpeninsular Highway Laguna Chapala

SCT press release
MEXICALI.-With the construction of five bridges and placing asphalt in 30.9 kilometers. This year will be achieved interconnect the Transpeninsular Highway with the road Mexicali- Laguna Chapala, stretch Puertecitos - Laguna Chapala.

During a tour of work by the southern state, headed by the Director General of the Center SCT Baja California Padrés Alfonso Pesqueira, could see the progress of the work.

He explained that investment in 2016 will be about 290 million pesos, with resources hundred percent of the Government of the Republic.


Transpeninsular1The length of the bridges to build varies according to the characteristics of the basin.

The first structure is designed to 32 meters in length, The You drag VI is 80 meters, Turquoise I and II will have a length of 65 meters and 108 meters Laguna Chapala bridge.

the asphalt will also place since 2015 works were carried out earthworks, as a strategy to move forward and seize the equipment required to breach as inhospitable as it is the desert of Baja California land.

Pesqueira said Padrés have confidence in the tourism and economic growth corridor Sea of ​​Cortez, this new road also be a new option to reach the northern border, savings of up to 4 hours generated.

Transpeninsular3"At the beginning of the administration was the indication Move to Mexico, achieving the objective esteremos build roads that generate greater security and contribute to the free movement of people," said the Head of the Center SCT, BC
BPE
We drove the route From Mexicali to the East Cape in November.           It was lovely to avoid all the freight trucks and congestion between Ensenada and El Rosario. 
The road south of San Felipe is old, but paved; be cautious of speed, as some of the dips are pretty exciting.
From Puertecitos to Bahia San Luis Gonzaga (and Alfonsina's) it's new pavement and quite good.  There's a short, few kM, section still unpaved from the end of pavement to Gonzaga.  Alfonsina's a historic stop on this route and has good clean rooms and good food.
From Gonzaga to Mex 1 is 30(?) miles of rough rocky road, with the last 8 miles being the worst.  Our traveling friend got two flats at the same time on his F150.  Good news is that there's a llantera where this road intersect Mex 1.  Plan on 2 hours.  You should stop at Coco's Corner on the way out and have a beer with the legendary Coco.  You might be wise to disconnect the dune buggy and drive it thru this section.  We drove a 2006 Subaru Outback with no problem.  When we return north in a couple weeks, we'll take the same route.  Buena suerte.  Ron 
Last edited by dean on Wed Mar 30, 2016 11:34 am; edited 1 time in total

Similar topics
---
Permissions in this forum:
You
cannot
reply to topics in this forum