ok row your way...
http://www.flycraftusa.com/

Last edited by dean on Wed May 13, 2015 9:48 pm; edited 1 time in total
Seahorse incorporates your bike into a human-powered airboat
http://www.gizmag.com/seahorse-human-powered-airboat/35009/?utm_source=Gizmag+Subscribers&utm_campaign=c3cfb7cc82-UA-2235360-4&utm_medium=email&utm_term=0_65b67362bd-c3cfb7cc82-90245106
Back in the early 90s, MIT's Prof. Mark Drela created a motor-less hydrofoil known as the Decavitator. Using nothing but his own leg power to turn the craft's 10-inch air propeller, he got it up to a speed of 18.5 knots (21 mph/34 km/h), breaking the human-powered water speed record in the process. Inspired by the Decavitator, aerospace inventor Russell Randall created his own pedal-propelled airboat called the Seahorse – and you can now buy one of your own.
According to Randall, the Seahorse is faster than a traditionally-paddled canoe or kayak, plus it can move backwards simply by reversing the propeller's rotation via a handlebar control. Users can also install an optional sail and use it as a regular catamaran, without the bike.
Two main versions of the Seahorse are available. There's a 14-foot (4.3-m), 25-lb (11.3-kg) polyethylene model that goes for US$$3,900 with the air propeller, or $4,400 with both air and water props. The longer 18-foot (5.5-m) version is made from fiberglass, and goes for $4,400 with an air prop or $4,900 with both. For around $7,000, it's also possible to get a carbon fiber 18-footer.
http://hydrobikes.com/
USD$2,000.00
http://www.gizmag.com/schiller-x1-water-bike/33596/?utm_source=Gizmag+Subscribers&utm_campaign=4f30ea8f3b-UA-2235360-4&utm_medium=email&utm_term=0_65b67362bd-4f30ea8f3b-90245106
Unlike the Shuttle Bike kit (which is designed to be carried in a backpack while the rider is cycling on land), the X1 has the "bike" built into it – it doesn't require the addition of an existing bicycle. That said, it still does disassemble for transport in a car, or for storage in a closet.
Its frame is made from anodized aluminum, with much of its hardware being constructed from stainless steel. The saddle, handlebars, cranks and pedals are of the type found on regular bikes, while the inflatable dual-chamber pontoons, not surprisingly, are rubber. It also features LED lighting.
Power is transferred from the pedals via a Gates Carbon belt drive to a continuously-variable NuVinci 360 transmission, and then used to turn twopropellers mounted on flexible shafts. In an arrangement that's unique to the X1, steering is achieved not through a rudder, but by turning the two props to the left or right.
The whole thing weighs about 45 pounds (20 kg), and can reportedly travel at up to 10 mph (16 km/h) "depending on rider ability."
And no, the X1 is not cheap. The basic version will set you back US$6,495, while the limited-edition chrome-plated Founder's Edition goes for $8,775. Shipping of the first units is expected to begin next month.
this top one is ideal for summer when getting wet is nice to stay cool.   Bottom one would be a great winter one.  
$1,600 plus shipping.  
http://www.aliexpress.com/item/Water-bicycle-water-inflatable-amusement-equipment-double-pedal-boat-foot-inflatable/1157038508.html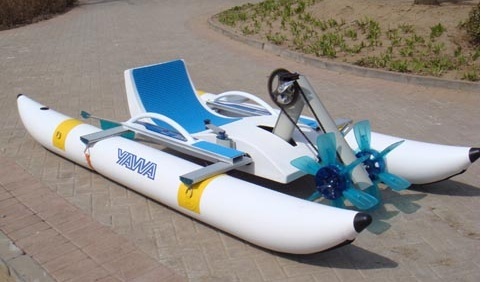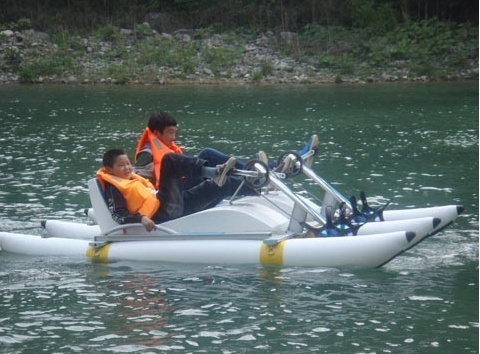 http://www.hammacher.com/Product/18747?source=GOOGLECAT&cm_ven=googlecat
The English Channel Pedal Boat.
This is the water craft that set a Guinness World Record for the fastest pedal-powered crossing of the English Channel. Possessing superior nautical qualities that enabled navigation through the Channel's notoriously inhospitable waters, its ballasted keel provides superior stability in windy conditions for up to three passengers (for a total of 525 lbs.). Its self-righting, durable rotomolded polyethylene hull cuts through chop for a smooth ride. Drawing 1' 8" of water, allowing paddling into shallows, it is suitable as a tender for transportation to an offshore boat, or as a way to explore a calm bay or lake. The boat has a quiet, smooth pedal crank that drives a 16" two-bladed propeller, providing a hull speed of 5 1/4 mph. Stopping and reverse are accomplished by pedaling backward. The rudder is controlled by hand levers located on both the right and left sides of the cockpit, providing easy and effective turning. A protective windshield and high freeboard guard against wind, waves, and water sprays, and the form-fitting recumbent seat is adjustable and fully padded for extra comfort. Ample storage space is located underneath the rear seat, and bungee cords in the bow hold towels, cameras, or food and beverages. A transom platform built into the stern allows for easy re-entry after swimming. It has a built-in manual bilge pump and a collapsible, marine-grade woven acrylic bimini top. 12' 2" L x 4' W x 54 3/4" H.
$3,800.00
others
http://www.amazon.com/s/ref=bl_sr_sporting-goods?ie=UTF8&field-brandtextbin=Nauticraft&node=3375251
http://directboats.com/pedalboats.html
https://www.alibaba.com/product-detail/fiberglass-body-cheap-price-water-bike_60509556567.html?spm=a2700.7724838.2017115.17.333e13bcKoSLYn
Last edited by dean on Fri Feb 09, 2018 10:36 pm; edited 2 times in total

---
Permissions in this forum:
You
cannot
reply to topics in this forum