Interesting Cell phone plan for Mexico.
Dose this apply to you?
You must 55 or older.
You must live in an area that is covered by Telcel in Mexico.
T-Mobile just announced a new cell phone plan for people 55+. To sign up you must go to one of their stores and show ID. This plan gives the following:
Unlimited texting, unlimited voice calls and unlimited LTE data on the phone.
The only limited part is tethering a computer. It is still unlimited data but They limit the speed to 3G.
The cost is $50 per month for one phone and $60 for 2 phones. We were paying about $85 per month for 2 phones so that was a $25 per month savings for us. This price does include all fees and taxes.
The area we spend the winter is well covered by Telcel so this was a good upgrade for us.
bpe wrote:††b.† Cell Phones:† Regarding cell phones. If you have AT&T in the States, your phone will now default to Nextel instead of Telcel (because, apparently, AT&T has some sort of contract agreement with Nextel). Nextel is not fully compatible with AT&T so many of the functions that work perfectly when using Telcel as the carrier will not function if you are connected to Nextel.
†I contacted AT&T International at 916-843-4685 and they were able to solve this problem for me using an IPhone. Donít know if this is an issue with other types of phones.
†They can send you the option to choose your carrier. It shows up in the Settings under Cellular AFTER YOU TURN OFF YOUR PHONE AND TURN IT BACK ON. It is called Carrier. You click on this, turn off Auto. the phone will search available carriers. You can manually select Telcel and all phone functions will magically start working. Or at least they did on my phone.

†Hope this helps, Martha Macnab
Good news, Los Barriles finally has a higher speed mobile data network with Telcel. Itís actually HSDPA speed which in English is enhanced 3G. That equates to descent speed as long as it can support the number of actual users on line at any one time. Remember, everyone shares the bandwidth on a mobile network.
bpe
this chart has it all. †click on chart or link for full sized.
http://bajamary.com/Mexican-Phones.php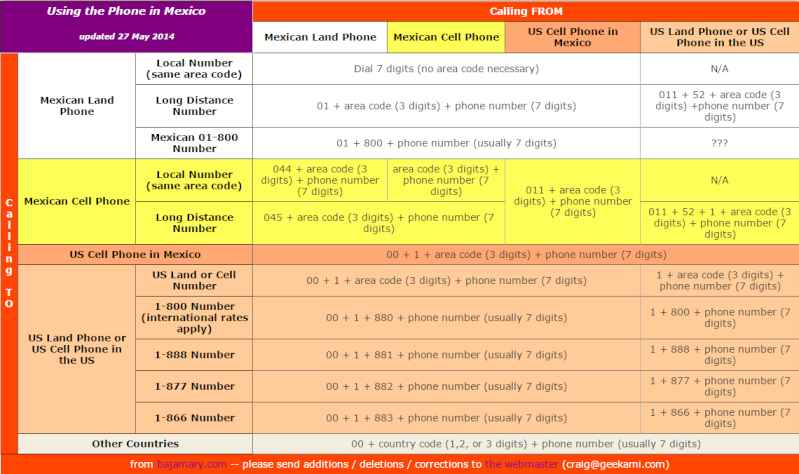 FINALLY, thanks to janeel eddie, got thru to someone that got it done. i did have to upgrade from 3G to 4G GSN phones. got 2 samsung odyssey phones, new on amazon for $100 ea. shipped to a friend in chicago area who activated and had sim cards put in. he brought them down last weekend and still "no servicio". janeel provided me with the lifeline i needed.
verizon international service 1-800-922-0204
verizon international support 1 908-559-4899 very short wait and a guy who handled everything. he pulled up a simulation of my old and new phones and walked me thru. even issued a 50% credit for sept and oct bill. never went to a supervisor and made sure he had my mex cell to call back if we got disconnected.
i just wrote a nice letter to his boss and loaded the numbers into a verizon folder
lpg
BPE
Cell Phone Discussion:

† † † † †1) †Verizon and Sprint are CDMA carriers in the US and Mexico. Those carriers are available only in La Paz and Cabo. They do charge a fee for service in those areas. Verizon is slowly departing the CDMA network but I'm not sure even the new phones are compatible with the local GSM networks. TMobile and ATT are available through roaming service provided by TelCel and MoviStar. ATT offers a reasonably priced Viva Mexico Plan but you have to press them to make sure it's still available. Remember their "North American Plan" is history. TMobile with certain plans offers free text and data at 2G speeds. TMobile does have a reduced price voice roaming plan for Mexico. The cheapest is a non-contract carrier - Republic Wireless. They use the Sprint Network in the US; that will not work in Mexico but it will connect through your wireless network at home for around $8 per month. You can change your plan up to twice a month. All plans give you unlimited text, voice and data. Their standard 3G plan in the US is under $30 per month. With Republic Wireless you have unlimited calling to and from the US over WiFi. Personally, I have ATT and Republic Wireless phone service.
† † Remember, most carriers charge a huge premium for international data. If you don't have an international data plan with your carrier, turn the data off. thecomputerguy (thecomputerguom)

† † † † † †2) †There have been questions about which US company has the best cell service in Baja. I suggest you look into getting a Telcel SIM for your US phone. We have iPhone 4S and a 5C through Verizon in California. When we arrive Baja, we simply remove the Verizon SIMs and install the Telcel SIMs. Itís dramatically cheaper than US plans, ca. MXN$2/minute. US plans for Baja are expensive at USD$0.75/min. The good thing is you never get shocked by how much it cost when you get your bill; if you run out of Telcel minutes, it simply stops working for calls; but you can recharge by telephone or at OXXO stores. Or you can buy a simple Nokia for MXN$300. The only complication with either of these is that you need to tell friends/family your Telcel number.
Ron, Casa Reposada, East Cape
go to

www.mitelcel.com

and register your number with a password to get all the info you could need.
lpg

Similar topics
---
Permissions in this forum:
You
cannot
reply to topics in this forum