Amazing or am I talking AMAZON... wow who'd a thought? Anyone notice my sign out front with KM8.5 and a amazon sign below it. Well amazing got a amazon delivery today. This was Amazon.mx they can send items from usa too with paid duty, have not done this just a simple order of ultra bright car back up LED lights so I do not hit you at night while backing up.
There were lots of kinks, but got the delivery this moring, ordered a week ago, well tuesday. Shipping was free for over a 500 peso order. as I am a USA prime member may have been why. I addressed it KM8.5 is about where I am at and put signs on the road.
So I propose we use this numbering system till we have official addresses by the ? does not matter. So water side of the road is odd number and mountain is even KM. We all have enough friends at the road that will accept delivers for them. If we keep it simple for now with low volume this should work to at least the hotsprings?
If we all use similar numbers it will make it easier. I bought mine at Home Depot. I am willing to accept orders for my neighbors to the direct west of me.
I will add some details here.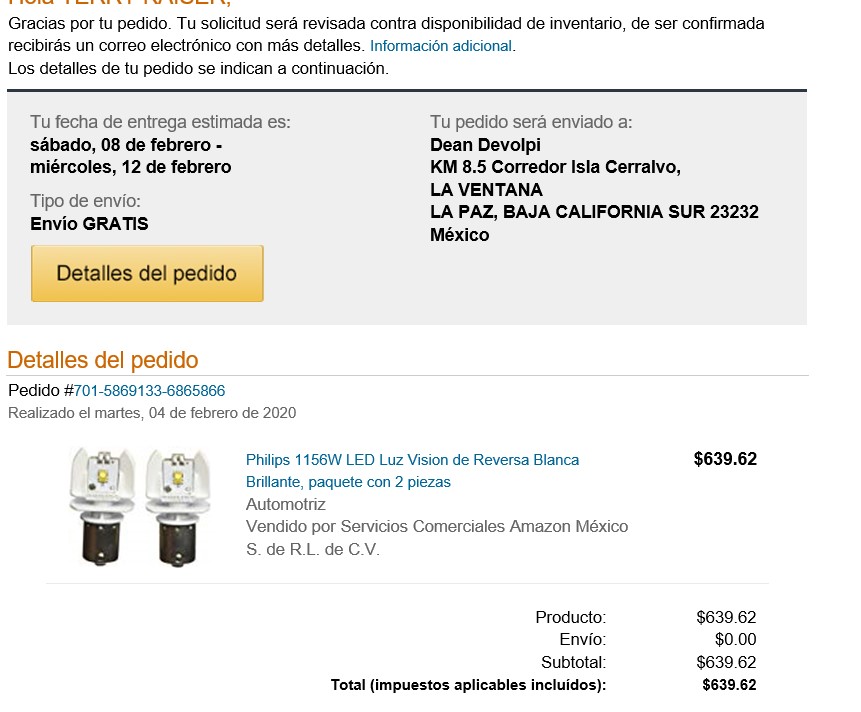 Last edited by dean on Mon Feb 10, 2020 8:16 pm; edited 1 time in total

dean




Posts

: 4826


Join date

: 2008-01-01



Allan asked This may be a dumb question but where do the KM distances start i.e. at zero ? so I can figure out what KM I am.
Hide or report this
Like
· Reply · 1h
Dean DeVolpi
Dean DeVolpi From the T-intersection, next time you drive you are going to look at the road vs the beautiful senerery and you will see official government markers even in town, there is one near playa central 8, there is one near club ceralvo, one by OXXO 10 and so on.
Now I cannot verify for accuracy any of those or mine, but I am close enough for delivery work.

dean




Posts

: 4826


Join date

: 2008-01-01



here was an issue, I am a prime member and it would not accept my crerdit card info and declined the order 4 or more times. So had a friend make the intial order with my address her credit card worked from the USA. I will call my credit card companies and ask them if they were blocking me because of online order outside of USA.

dean




Posts

: 4826


Join date

: 2008-01-01



Olivia has some wood to use and since we are not going to get these sandblasted i bought my letters at home depot, they are reflective. though I also did some metal ones because I was concerned I wanted several ways to telegraph it.

you can do a drive-by of KM 8.5 for yourself to see the numbers and letters I used. I was overboard because this was something new.

I bought these at home depot, you will need to get the person who is responsible for that area write out the code numbers as the bar codes do not work at the cashier stations so you have to wait, easier if you get the person than hold up line.

dean




Posts

: 4826


Join date

: 2008-01-01



Just made a new test, instead of ordering from amazon.mx ordered from amazon usa to ship to Mexico.   Then I made a test order to arrive in 2 weeks.   Found about 50% of the items i was interested in  could not be shipped to Mexico.    and found the duty on those that could  be shipped was zero to 50% of the items i looked at.    The shipping cost was about 20%-25% of the item cost.    
here is what it looks like on amazon USA when your shipping address is Mexico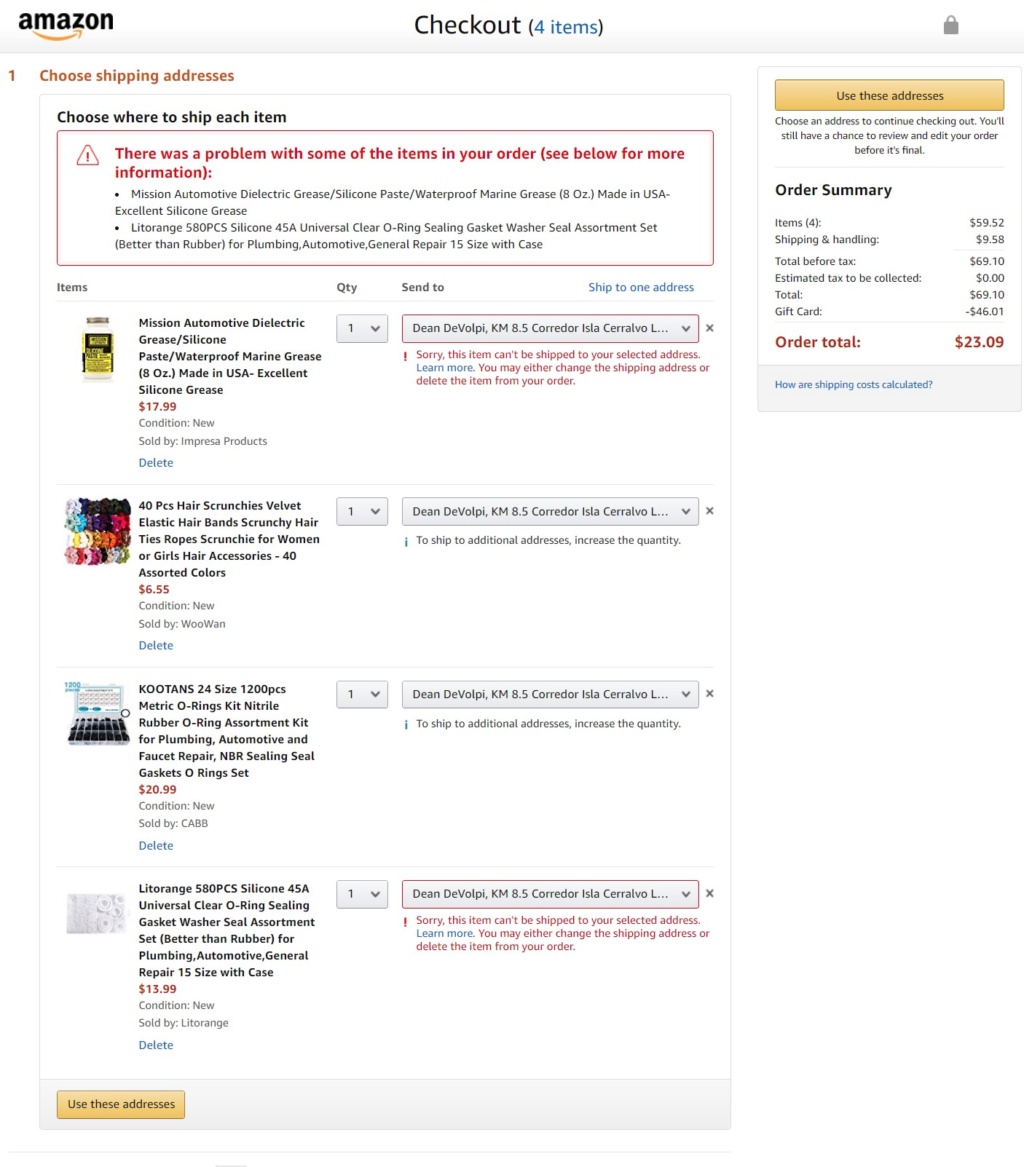 Here is when you start the order process it shows the duty/import tax and shipping cost.   about 30% of the total order shipping and import tax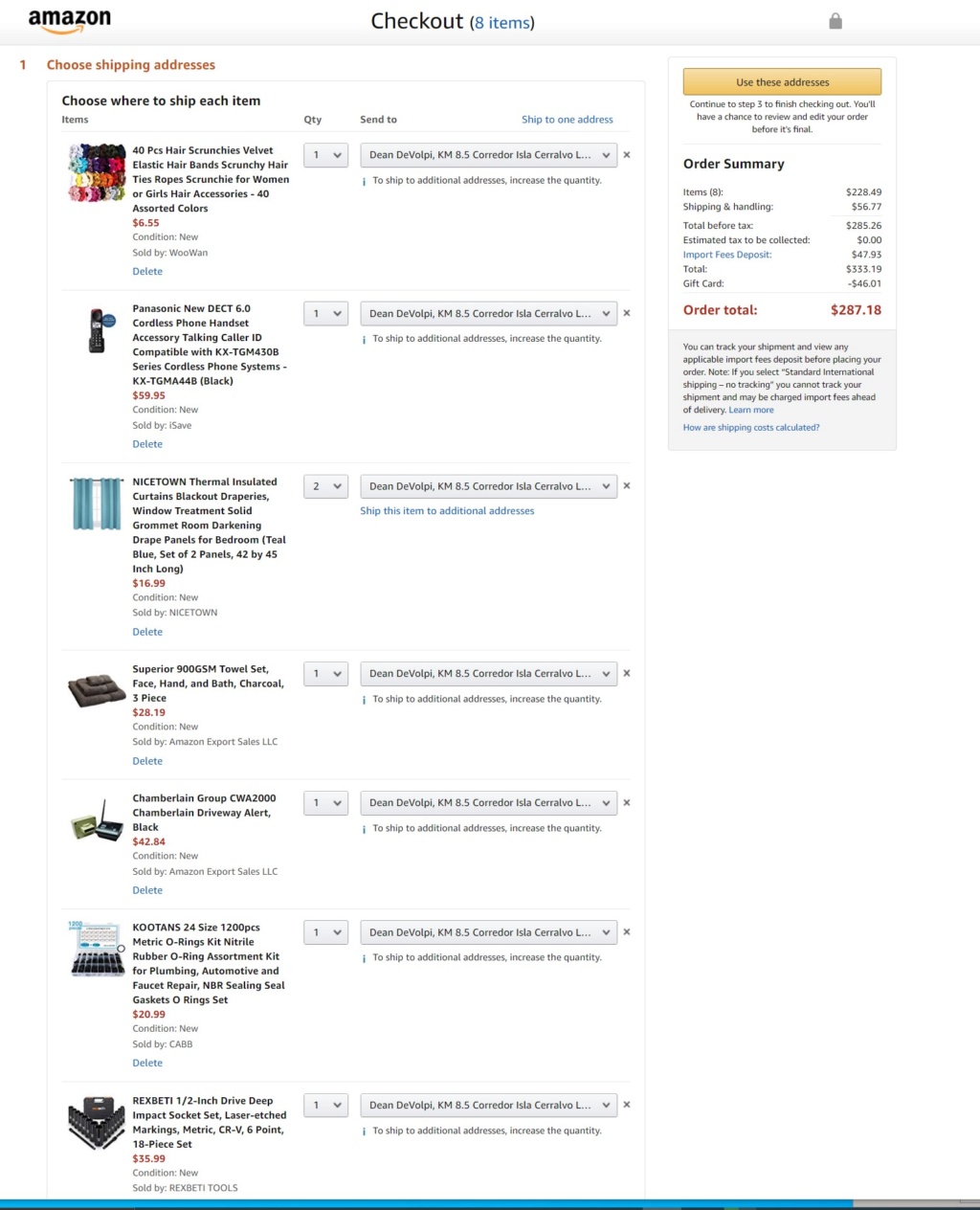 here was my actual order to test.   these items had no duty on them, just shipping cost and we can see the arrival date.     shipping was usd$10.00 and items were $28.00 so ordering from USA amazon site even though I am prime cost about 30% in this case. and there was no importation added on these two items.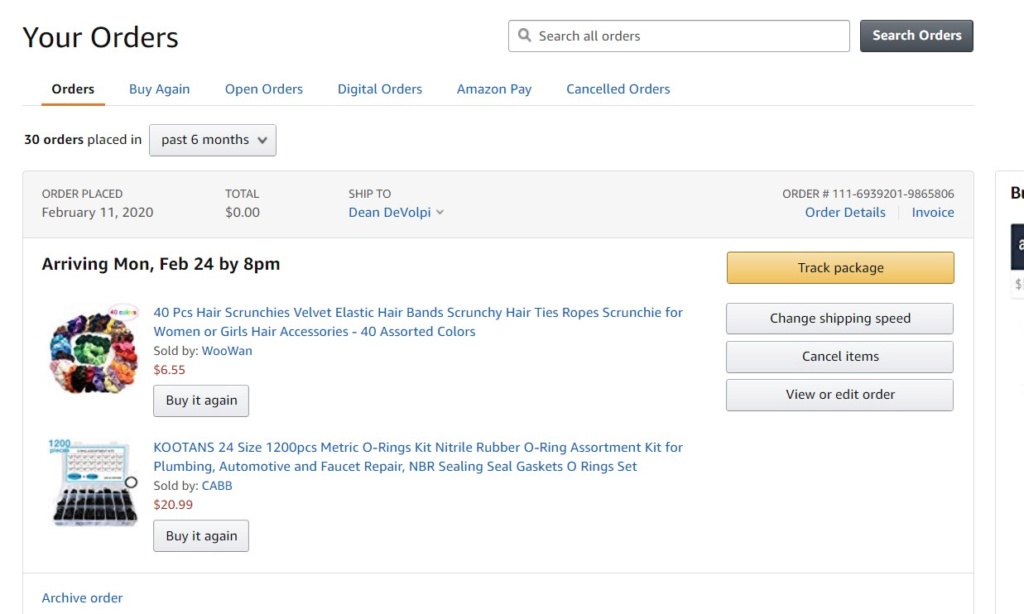 dean




Posts

: 4826


Join date

: 2008-01-01



here is an update on the amazon USA order I made shipping to Mexico. Again I am a prime member in USA but for shipping outside of USA there are fees to be paid for shipping. I only picked items with no duty on them.
It is being sent via DHL right now. It is at DHLs main hub for international shipping as of yesterday and now departed today. I would assume it will go to DHL hub in Tolume Mexico next. Then a day or so for Mexican customs department clearance.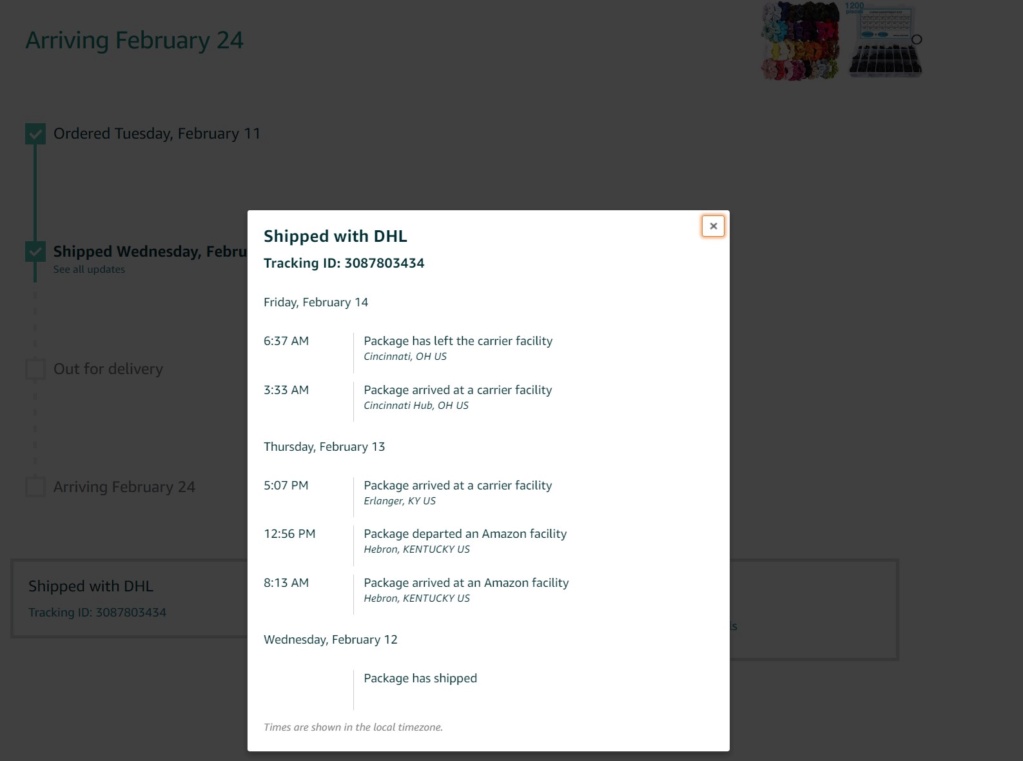 dean




Posts

: 4826


Join date

: 2008-01-01



Ok my USA amazon order and another person ordering seperately has made it to LaPaz, but they will not delivery to LV because it is DHL. So I we have to pick it up ourselves. Not sure which DHL location.
also this other person ordered from amazon MX a order for an imported item and was delivered to KM9.2 club Ceralvo and his order amazon MX not imported item was delivered to KM 9.2 club ceralvo. So the orders via amazon mx do arrive here in LV.
here are my USA orders details that I must pick up in LaPaz at a DHL location.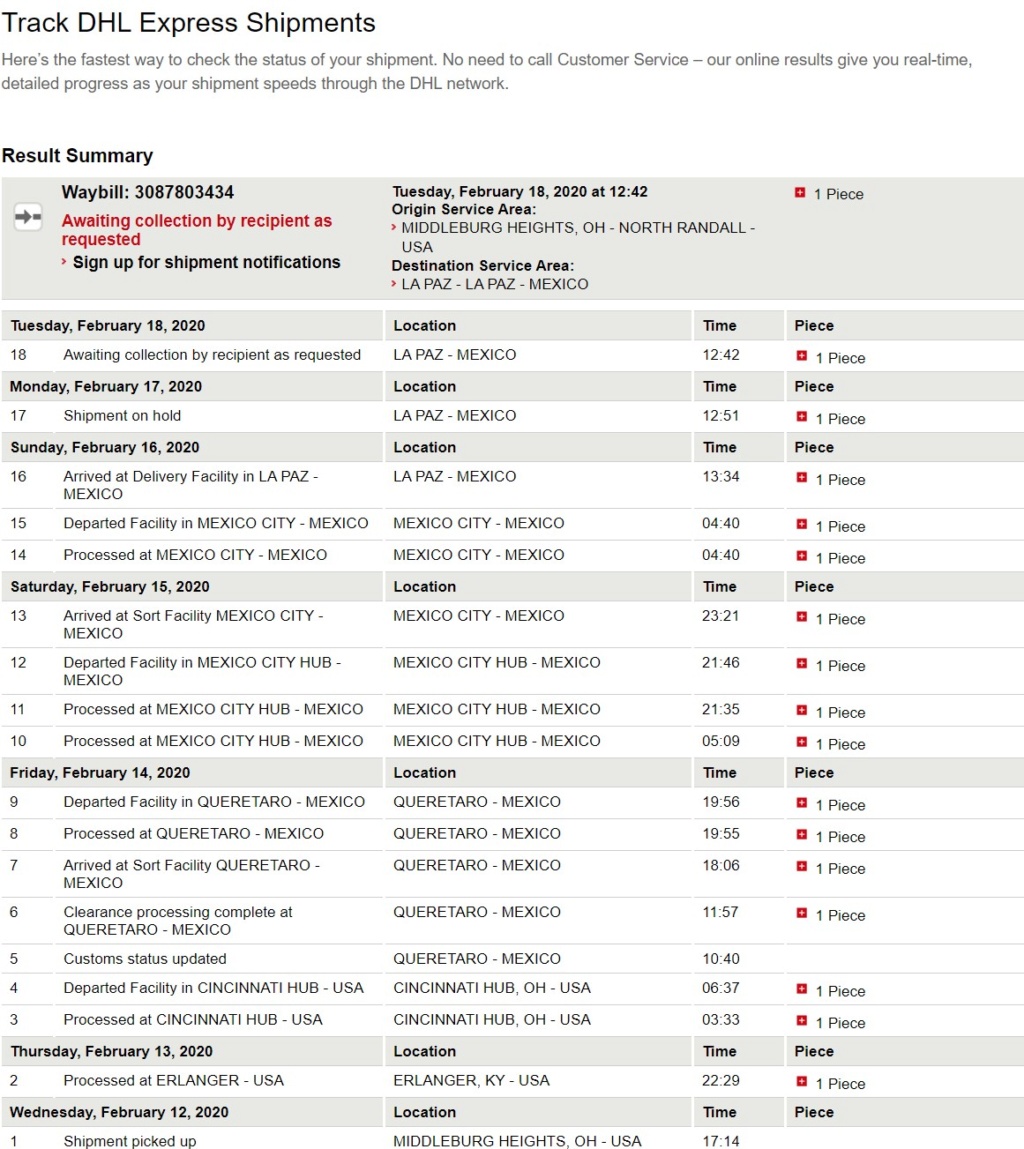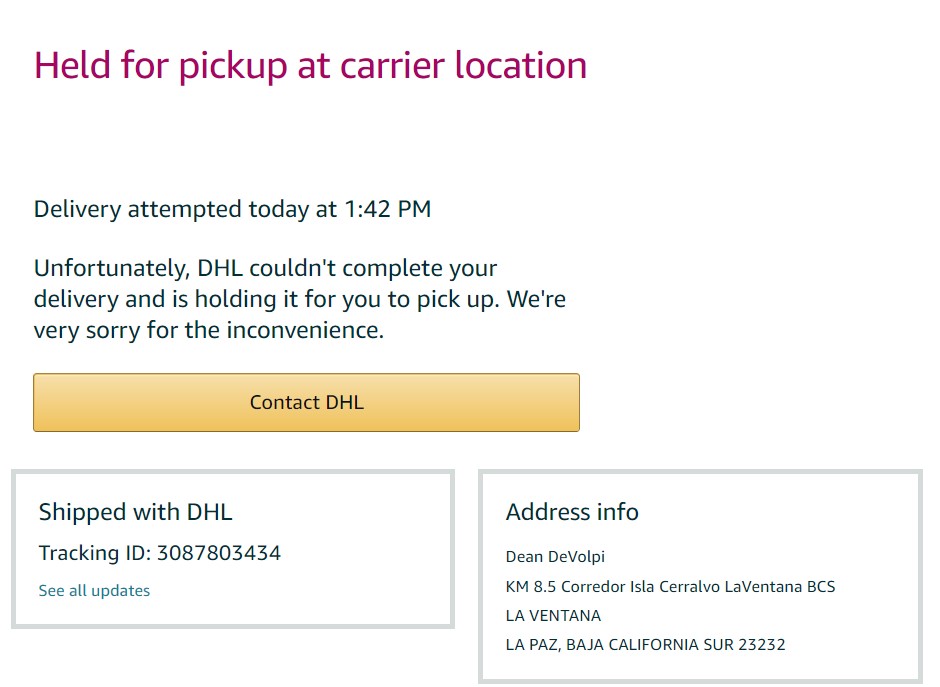 dean




Posts

: 4826


Join date

: 2008-01-01



I emailed DHL customer service to get the info to pick up the amazon USA order. here is their detailed reply.
dhl response with info wrote:

We apologize for the inconvenience. We understand your concern and it will be my pleasure to assist you today.

As per our system, this package is awaiting consignee collected at the following service center as per February 18, 2020:

DHL EXPRESS MEXICO SA DE CV
Av. 5 de Febrero
1675
Los Olivos
LA PAZ
BAJA SUR 23040
23040

Operating Hours:
Mon: 09:00 -19:00
Tue: 09:00 -19:00
Wed: 09:00 -19:00
Thu: 09:00 -19:00
Fri: 09:00 -19:00
Sat: 09:00 -13:00
Holidays: 09:00 -13:00

Nevertheless, I highly recommend contacting DHL Mexico to verify all information and to get further assistance, as they have access to DHL Mexico's system and I do not, as I provide support to the USA front only. They provide customer service in both English and Spanish.
DHL Mexico: +52 (55) 5345 7000 or 01800 76 56 345


dean




Posts

: 4826


Join date

: 2008-01-01



An order with amazon mx with importation was brought in with DHL and it had to be picked up at DHL in 5 de february also.

dean




Posts

: 4826


Join date

: 2008-01-01



facebook wrote:a few updates. I have ordered from Amazon.mx for non-imported items 4 times, and only one time it came to LaVentana. Actually I have only ever had 1 package make it LV. Saturday I ordered from Amazon,mx (not imported) and I got notice yesterday it was in LaPaz at DHL. It was there separate boxes, but all were DHL.
Today at DHL at 12:45pm, they are limiting 5 people at a time inside with taped staging areas.

dean




Posts

: 4826


Join date

: 2008-01-01




---
Permissions in this forum:
You
cannot
reply to topics in this forum