http://www.goes.noaa.gov/HURRLOOPS/hpir.html
water vapor
IR
visable
http://preview.weather.gov/graphical/?zoom=3&lat=10.91198&lon=-68.37891&layers=00BFTFTTTTT&region=7&element=9&mxmz=true&barbs=true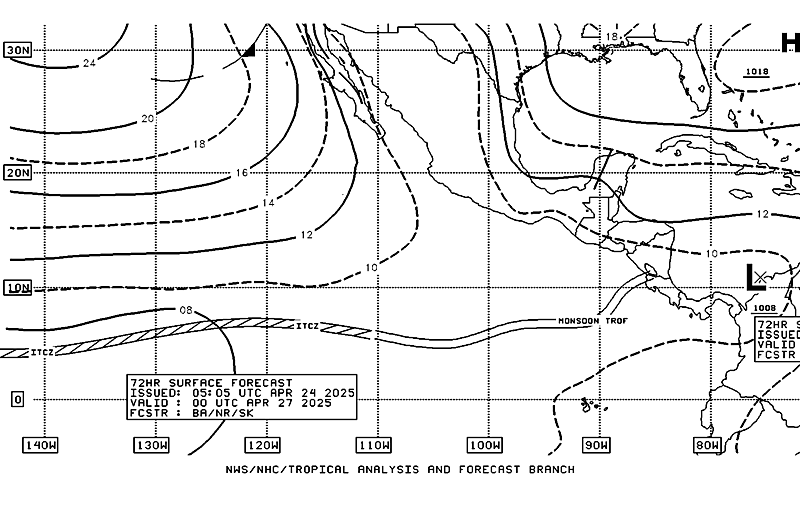 for written warnings
http://www.nhc.noaa.gov/text/MIATWDEP.shtml
http://www.nhc.noaa.gov/satellite.php
this is the best chart for water temp, I can not post because it is protected  because of copyright so not able to show.
http://www.terrafin.com/sstview/showFreeChart.php?ct=free&zn=wcrv&rg=sobaja&ix=1
here are waves
http://magicseaweed.com/North-East-Pacific-Surf-Chart/24/?chartType=TMP#?chartType=TMP&_suid=137830751615607519982515368611
http://www.wunderground.com/wundermap/?lat=23.45000&lon=-110.21667&zoom=10&type=hybrid&units=metric&pin=Todos+Santos%2C+Mexico&plat=23.450001&plon=-110.216667&tl.play=0&tl.spd=2&viewportstart=now-3756&viewportend=now-156&groupSevere=1&groupHurricane=1&groupFire=1&groupCamsPhotos=1&groupRealEstate=1&eyedropper=0&extremes=0&fault=0&favs=0&femaflood=0&fire=0&firewfas=0&fissures=0&fronts=0&hurrevac=0&hur=0&labels=0&lightning=0&livesurge=0&mm=0&ndfd=0&rad=0&dir=1&dir.mode=driving&sst=0&sat=0&seismicrisk=0&svr=0&ski=0&snowfall=0&stormreports=0&tor=0&tfk=0&tsunami=0&riv=0&wxsn=0&cams=0&pix=0
for written warnings
http://www.nhc.noaa.gov/text/MIATWDEP.shtml
http://www.nhc.noaa.gov/satellite.php

dean




Posts

: 4826


Join date

: 2008-01-01



bwo
Storm/ Security Shutters - We have just worked with a great group of guys to have hurricane shutters installed and wanted to let everyone know how happy we are. Hurricane Solutions of Cabo did awesome work. They are on time, respectful of the property, hard working and in the end the shutters are wonderful. The shutters serve as security, sun protection, hurricane protection and will give us piece of mind the house is taken care of during a storm. Call Hans Peter Ziervogel 624-128-8122. - Eva,

anothergreatday@live.com

, Todos Santos

dean




Posts

: 4826


Join date

: 2008-01-01



Huricane Outlook
During the 2013 season will be recorded about 18 tropical cyclones in the Atlantic Ocean, well above the historical average. While in the Pacific Ocean the number will be slightly above average, with 14 cyclones, according to the National Weather Service (NWS) under the National Water Commission (Conagua).
Of the 18 named tropical cyclones would be recorded in the Atlantic, 9 be tropical storms, 5 hurricanes moderate (category 1 or 2 in the Saffir-Simpson scale) and 4 major hurricanes (category 3,4 or 5), according to first version of the Activity Forecast and Tropical Storms Hurricane issued today by researchers at the State University Colorado (CSU), Philip Klotzbach and William Gray on April 10, 2013

dean




Posts

: 4826


Join date

: 2008-01-01




dean




Posts

: 4826


Join date

: 2008-01-01



NOAA Predicts Below Normal 2011 Eastern Pacific Hurricane Season - Although the 2011 Hurricane season officially started on May 15, things are still pretty quiet on the Eastern Front. The 2011 NOAA Outlook, issued 19 May 2011, calls for a 5 percent probability of an above normal season, a 25 percent probability of a near normal season and a 70 percent probability of a below normal season:
Climate patterns similar to those expected this year have historically produced a wide range of activity. Allowing for uncertainties, NOAA estimates a 70% chance of occurrence for each of the following ranges of activity this season:
• 9-15 Named Storms
• 5-8 Hurricanes
• 1-3 Major Hurricanes
The seasonal activity is expected to fall within these ranges in 7 out of 10 seasons with similar climate conditions and uncertainties to those expected this year. They do not represent the total possible ranges of activity seen in past similar years. The 1981-2010 averages for the eastern Pacific hurricane season are 15-16 named storms, 8-9 hurricanes, and 4 major hurricanes.
Read the complete NOAA outlook here:
www.cpc.ncep.noaa.gov/products/Epac_hurr/Epac_hurricane.html.
Also, read the Baja Insider's take on the current forecast:

dean




Posts

: 4826


Join date

: 2008-01-01



lpg
Hurricane Season from

Marie-Eve.Pomerleau@canada.org.mx

Posted by: "Donneley"

donneley@prodigy.net.mx

donneleymccann

Tue Jun 1, 2010 7:14 pm (PDT)

WARNING TO CANADIAN CITIZENS

IN THE STATE OF BAJA CALIFORNIA SUR

Please share the following important information with all the Canadian citizens in your organization, area or district.

Hurricane Season is now upon us and extends from June 1 through November 30. The key to hurricane or tropical storm protection is preparation, and we encourage you and your family to review your personal safety practices. By taking sensible measures before, during, and after a hurricane, many lives can be saved and property damage averted.

Keep well informed by listening to the latest warnings and advisories on the radio, television, or web sites. Many Hurricane Centres will issue and update these when necessary. It is also important to follow the advice of local authorities and emergency response personnel. Note that the contact information for Protección Civil authorities in your state is as follows:

Protección Civil - State of Baja California Sur

Palacio de Gobierno, 2nd Floor

Isabel la Católica entre Allende y Bravo

23000 La Paz, BCS

Tel.: (612) 123-9421

Fax: (612) 122-4123

E-mail:

procivil@gbcs.gob.mx

Protección Civil - City of Los Cabos

Calle Valerio González

23400 San José del Cabo, BCS

Tel. & Fax: (624) 142-3748

Website:

www.loscabos.gob.mx

Protección Civil - City of Loreto

Edificio de la Presidencia Municipal

23880 Loreto, BCS

Tel.: (613)135-0036

Cell.: (613)104-0954

Protección Civil - City of Mulegé

Palacio Municipal

23900 Mulegé, BCS

Tel.: (615) 157-0706

Cell: (615) 159-8051

A hurricane preparedness plan includes three basic elements that are important in the threat of any severe weather event, and not just for hurricanes:

1. Maintaining a disaster or emergency supply kit;

2. Securing your home and property;

3. Having a safe place to go in the event of evacuation or prolonged utility outage.

We would encourage you to visit the following web sites where further information is available, on hurricanes specifically and emergency preparedness in general.

The hurricane page on the website of the Embassy of Canada in Mexico at:

www.canada.org.mx

Foreign Affairs and International Trade Canada at:

www.voyage.gc.ca

On this page, visit the Travel Report for Mexico (http://www.voyage.gc.ca/countries_pays/report_rapport-eng.asp?id=184000) for information on official warnings regarding local hurricanes.

You may also visit the Hurricane Season section of the Global Issues page (http://www.voyage.gc.ca/countries_pays/issues_enjeux/article-eng.asp?id=1099) for more information on hurricanes and the latest developments.

Public Safety Canada at:

http://www.getprepared.ca/knw/ris/hrr-eng.aspx

The US National Hurricane Centre at:

www.nhc.noaa.gov

The Canadian Hurricane Centre at:

http://www.ec.gc.ca/ouragans-hurricanes/

We would be grateful if you would pass on the contents of this letter to any other Canadian citizens you know, and have them bring their whereabouts to our attention if they are not already registered with us.

For consular emergencies, please contact the Consular Agency of Canada in los Cabos, Tel: (624)142-4333, from Monday to Friday, 9:30 a.m. to 12:30 p.m. or at

loscabos@canada.org.mx

. After hours and on weekends, you may call the Operations Centre of Foreign Affairs and International Trade Canada in Ottawa via the Canadian Embassy in Mexico toll free number 01-800-706-2900 or by placing a collect call at (613) 996-8885.

Best Regards

dean




Posts

: 4826


Join date

: 2008-01-01



Last edited by dean on Wed Sep 04, 2013 6:21 am; edited 1 time in total

dean




Posts

: 4826


Join date

: 2008-01-01




---
Permissions in this forum:
You
cannot
reply to topics in this forum