bpe
bpe wrote:b. We are currently in Los Cabos installing high Speed Satellite Internet. We have Service from 5-10 mbps unlimited service say good bye to restricted satellite internet sence this is satellite we can install in any remote area from la Paz to Los Cabos. Osiris Arguelles

http://www.satelitedelnorte.com.mx hamit@satelitedelnorte.com.mx

646136-0495
bpe wrote:b. Internet, Satellite TV, Security Cameras, We are full time Los Barriles residents, We will answer your phone calls and return your emails. I can tell you when October, November rolls around we could be 2 to 3 weeks out for installs. Thank You for your support. Roy,Beto,Pako

www.eastcapeinternetpako.com
bpe wrote: Hi were offering reliable satellite service we have unlimited plans and also high speed from 3,5,10 mbps and yes there unlimited also the service is very affordable and we have coverage to the hole Baja sur smallest plan is 1800 pesos 1.5 mbps unlimited bandwidth and highest plan is

20 mbps 8300 pesos unlimited

there is a plan to fit your budget contact us we have been servicing Baja since 2014 now we want to help Baja sur

hamit@satelitedelnorte.com.mx

lpg wrote:3b. Re: Satellite TV technicion

Posted by: sherrykayr sherrykayra

Date: Thu May 5, 2016 3:54 pm ((PDT))

try Gabriel Basurto at Webzone La Paz...612 157-6010

gbasurto@webzone.bcs.com
How a group of neighbors created their own Internet service
http://arstechnica.com/information-technology/2015/11/how-a-group-of-neighbors-created-their-own-internet-service/?utm_source=Daily+Email&utm_campaign=6f875e69aa-15110211_2_2015&utm_medium=email&utm_term=0_03a4a88021-6f875e69aa-247982765
While CenturyLink is the main ISP on Orcas Island, a company owned by Orcas Power & Light Co-op (OPALCO) is building out a fiber network in the San Juan County islands. That company says construction will cost "$1,500 to $6,000 on average" for each home, and residents would be responsible for anything beyond the first $1,500.
DBIUA charges much less, but even its low prices "can be significant depending on your income," Brems said. The DBIUA customers include "lots of retired people and people living off the land. We had to convince people we knew what we were doing," he said.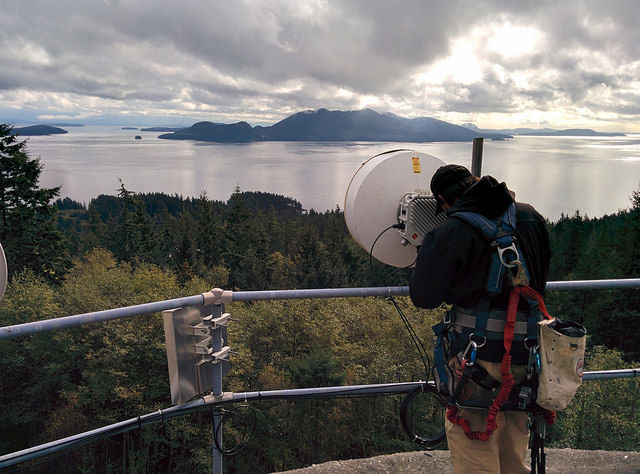 StarTouch installing a microwave link at the water tower.

DBIUA

DBIUA spent about $25,000 in total to build the network, and an anonymous resident provided the money in a 3-year, interest-free loan. Residents paid $150 to become members of the DBIUA and $75 a month for Internet service, which goes toward paying down the loan. The monthly fees also cover the $900 a month DBIUA pays StarTouch for bandwidth.
DBIUA needed 25 customers to pay the bills and stay afloat. At 50 now, the organization is paying the loan off a bit more quickly. Sutton hopes to lower the monthly price residents pay after the loan is paid off.
"We're not making any money here, we're just covering our costs," Sutton said. Besides residents, DBIUA also provides Internet access to the water plant and the Doe Bay Resort. The water plant uses very little bandwidth, and the resort also has a fiber connection to OPALCO, he said. (DBIUA talked to OPALCO about purchasing fiber backhaul, but was unable to get wholesale rates, making it more economical to go with StarTouch, Sutton said.)
ventana view wrote:Satellite internet is available from La Paz.  Equipment plus wiring:  
$800.00 dlls // Monthly fee: $50.00 dlls for 2.7 megs down/512kbps up. Unlimited usage
$100.00 dlls for 5 megs down / 512 kbps up //
$500.00 dlls for 30 megs down/ 30 megs up //
Contact Martin Sandoval at: baja.sammtech   at   gmail.com
Explanation: 1 Kbps (kilobits-per-second) = 1,000 bits per second and 1 Mbps (megabits-per-second) = 1,000,000 bits per second. A lowercase "b" in Kbps means bits, while an uppercase "B" means bytes. There are eight bits in a byte. For comparison, most people here are on the minimum Telmex subscription (1 Mbps) so the minimum offering above is nearly 3 times faster.

Loreto and Mulege Satellite TV, Internet and Cell Phone Booster Services - Offering quality installation and repair services for Dish Network, Shaw Direct Satellite TV, HughesNet and commercial V-Sat Internet systems, wired and wireless home networks, VoIP telephony, home theater and structured cabling.

Also offering Cell Phone Boosters! If you're tired of dropped calls, I can help. Through a special partnership with El Dorado Networks in the US, we offer Cell Booster Technology that works with TelCel, Nortel and Movistar.

I'm based in Loreto, but willing to travel to remote locations. Fully bilingual, with references available upon request. Contact: ☞ Jose Antonio Davila. Mx cell: 613 111 9779. US # 619 534 6401, Email:

josedavilav@gmail.com

, Loreto

Installation and Repairs For Satellite TV and Internet - I can install, repair and upgrade your Dish TV, Shaw Direct or HughesNet antenna.

Need Service For Your Dish TV, Shaw Direct, or Hughesnet Internet System? If you need service, I can help you. Whether you need a new receiver, parts, a new dish or cables, or just a repointing to get you back online or restore your TV or Internet service, call me at 612 104 2000 or send an Email to todossantostv1nnnngmail.com.

I am local, and I provide service for new installations and repairs for the entire Los Cabos region at VERY reasonable rates. ☞ Ernesto Pardo, Todos Santos Technologies, todossantostv1nnnnngmail.com, 612 104 2000, Todos Santos

Similar topics
---
Permissions in this forum:
You
cannot
reply to topics in this forum